Tell us a little about your poetry collection.
El Rey of Gold Teeth is my debut collection of poems that encapsulates about ten years of growth and exploration of language, compiled and completed right after my debut collection of short stories The Book of Wanderers. For example, the "Hijo, please" series has a version going as far back as 2010! A few poems are from as late as 2021. In a way, I wrote 3 books before finishing this one (2 theses and 1 published manuscript). So, it has to be pretty good… right?
Whereas The Book of Wanderers features more playfulness with genre and narrative along with the language, El Rey of Gold Teeth centers a grappling with language(s) that is channeled by both isolated and interconnected perspectives, voices, and forms on a smaller yet more concentrated scale. For example, The Book of Wanderers has ten stories at about 190 pages total, versus El Rey of Gold Teeth with more than 40 poems but around 90 pages.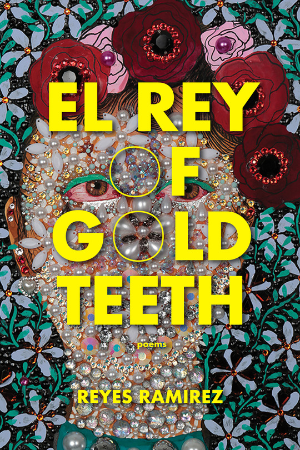 I say all this because El Rey of Gold Teeth is about understanding one's voice in a sea of histories that clash with, complement, erase, and/or survive one another. One poem may be from the perspective of a witness to history while another is the voice of history itself. One poem is a translation of a broken turtle shell while another is a pseudo-recipe for pozole. Some poems are Biblical. Some are from fugue states induced by substances. You get it, probably. Hopefully, this culminates in an experience where the reader can imagine a new future for our collective history.
Another note is that both of my books thus far are results of working with legends. The Book of Wanderers is a result of working with Camino del Sol series editor Rigoberto Gonzalez. El Rey of Gold Teeth is a result of working with Eduardo C. Corral after he graciously took on some mentees for their poetry collections (obviously myself included.) Eduardo saw a much less developed version of El Rey of Gold Teeth and taught me to push my limits of language and form. What a dream!
Who/what are you reading right now? What inspires you?
What inspires me are the many writers of color publishing their chapbooks, zines, books, essays, stories, poems, etc. who, in doing so, subvert mainstream ideations of literature with their histories, languages, and playfulness.
I generally like to read a mix of genres, forms, and topics. I keep track of everything I read and make a full account for each book I finish (probably a practice of comfort stemming from my RABDARGAB days).
Lately, I haven't completed too many books of fiction (save for Christopher Gonzalez's I'm Not Hungry But I Could Eat). This probably stems from my collection of stories that has just come out, and I'm too much into its promo mode to enjoy fiction for now. It'll come back!
I'm savoring poetry while I still can in case promo mode for El Rey of Gold Teeth gets me in a similar mood. I recommend these books that I've completed lately:
Who All Gon' Be There? by Danielle P. Williams
Come Clean by Joshua Nguyen
Magical Negro by Morgan Parker
Imperial Liquor by Ahmaud Jamaul Johnson
Girl's Guide to Leaving by Laura Villareal
Reparations Now! by Ashley M. Jones
Thresh & Hold by Marlanda Dekine
However, I've mostly been consuming nonfiction (creative and academic) for research as my next project is a collection of creative nonfiction essays focusing on art, pop culture, games, beer, etc. I thoroughly recommend these:
A Latina in the Land of Hollywood by Angharad Valdivia
Zombies, Migrants, and Queers by Camilla Fojas
Ripe by Negesti Kaudo
Funeral for Flaca by Emilly Prado
Minor Feelings: An Asian American Reckoning by Cathy Park Hong
Brown Neon by Raquel Gutierrez
As of this writing, I'm reading From Threatening Guerrillas to Forever Illegals by Yajaira M. Padilla, whose pages I'm ruining by underlining every other sentence.
How does the South or place in general inform your writing?
I think Houston and Texas share a nebulous space within Southern, Southwestern, and Western histories: rodeo, BBQ, the Borderlands, erasure of indigenous history, history with slavery, the heat, the sea, the metropolis, clubs, churches, hip hop, country music, ranchera, etc. Texas routinely threatens its secession from the union while fighting to erase non-white history, yet Houston is one of the most diverse cities in the US that votes Blue. In other words, Texas's present relies heavily on its singular interpretation of its past despite a growing and divergent populace. Houston, much like Atlanta or New Orleans or Memphis or Jackson, is full of people ready for change in a state that wants to hold dearly onto a future that does not include the success of my communities: the immigrants, the artists, the educators, etc. We share a surviving of institutional violence and a hope in our struggle for a better future. It's this tension that I hope my work contends with, that I love because of my community despite everything working against us.
What would you say is your interesting writing quirk?
I have go-to drinks when I write: hot black coffee with butter, cold brew with a touch of sweet cream, an IPA (preferably either a double IPA, Brut, west coast, or Rye), a screwdriver, or a sparkling water with ice. I know that seems like a lot, but it must be one of those.
What do you do when you aren't writing?
I watch way too many movies and YouTube videos on ridiculously obscure topics or Judge Judy/Kitchen Nightmares reruns, try out new beers, take walks to look at flowers and basking turtles, be with the people I love, and curate this virtual exhibition: www.thastg.com
What is something you learned while writing this collection?
That there's always something to be said or written, despite what others have said or written. That language is a tool and not a rule.